6 days / 5 nights
Machame Route Mount Kilimanjaro Climb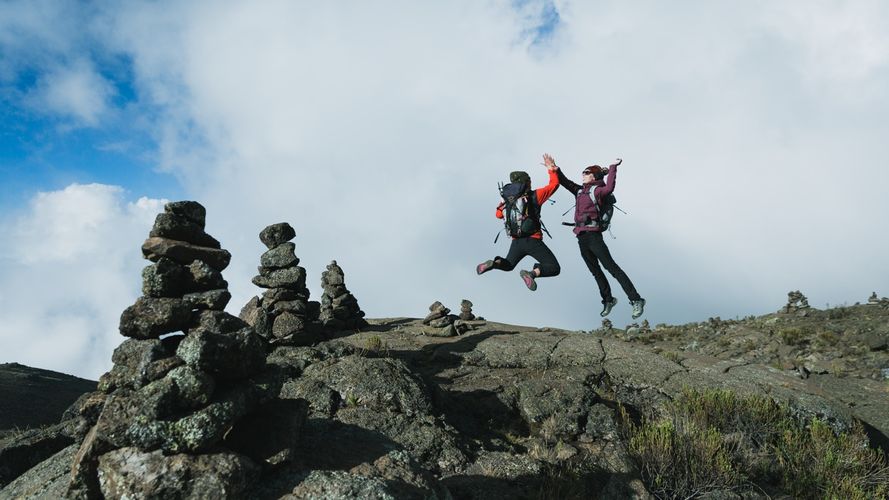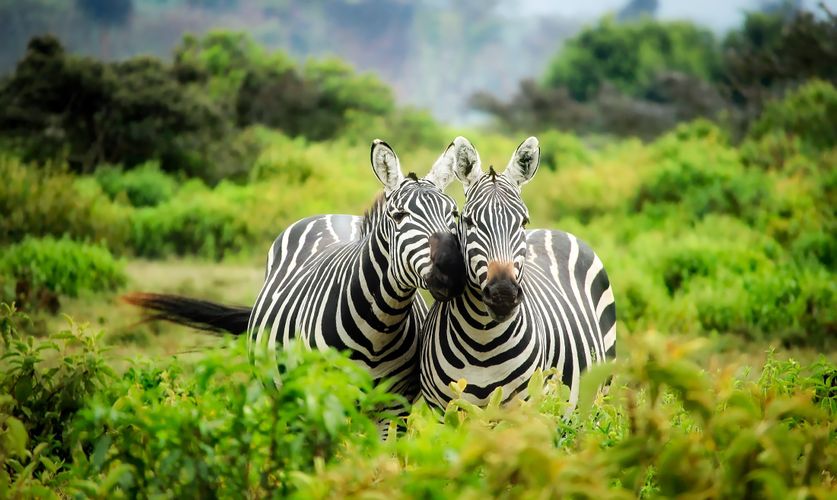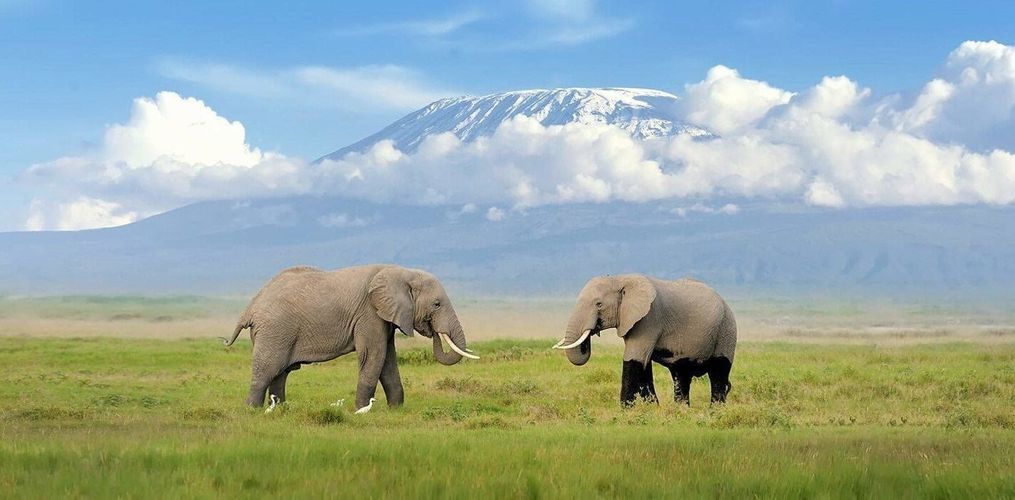 Inclusions
Themes
Snapshot
Machame Route Mount Kilimanjaro Climb, this is the most scenic routes to climb mount Kilimanjaro Highly recommended for scenic value Great for acclimatization with lots of walk high, sleep low opportunities Challenging trek with stunning scenery through 5 diverse climatic zones Good opportunity to split pre-summit day climb to leave climbers rested before summiting Very popular trail Fully catered camping only The Machame route is probably the most popular route these days and is also called "the whiskey route". This route is steeper than the Marangu Route and Rongai Routes and are physically more demanding and for that reason, it is better suited for the more determined and physically fit climbers.
Inclusions
All transport by private vehicle to and from the mountain Accommodation as detailed on the itinerary. Services of a private mountain guide, cook and adequate porters to carry both trip provisions and client's private bags. National Park entrance, accommodation and camping fees. All food and catering equipment – breakfasts, lunches (packed when necessary) and evening meals prepared by our own cook. Special dietary requirements are catered for with prior arrangements at no extra cost. Certificate of Achievement /appreciation from us. Free storage of excess baggage not required on the mountain hike. Crisis management apparatus – VHF 2-way radio/mobile phone, basic first aid kit and an on call vehicle. Departure dates: Any time with a minimum of two people. Season: the best times are January to March and June to December. Scheduled group trips: Daily during best seasons.
Exclusions
Travel and personal accident insurance. Visa, passport, vaccinations, medicines. Personal Mountain equipment. Tips. Expenditure on alcoholic drinks, souvenirs and other personal items. Optional excursions not detailed in the itinerary. Additional optional accommodation added at the base hotel or extra days on the mountain added. Treated drinking water other than boiled. Extra costs incurred in case of own intentional change of itinerary while already on trek. Porters to carry excess of 16Kg. personal luggage per client.
Itinerary
Day 1
Arusha - Machame Route
From Arusha drive to the Machame route, often called the "Whiskey Route". From the Machame Park gate is a gentle climb up through the original montane forest, carpeted with unique -busy lizzie- flowers, begonias and ferns. First camp amongst the giant heather at 3,000m. Ascent of 1,200m and 5 to 6 hours walking.
Emerge from the giant heather zone and hike through fine open moorland to camp by the Shira Cave at 3,840m. Herds of eland up here (& occasional lion!) and there are fascinating geological features in the old volcanic caldera which can be viewed during a half-hour optional walk in the afternoon. Ascent 840m and 4 to 5 hours walking.
From Shira, climb towards the main peak Kibo, with the western glaciers clearly visible across the rugged high-altitude desert of volcanic rocks and boulders. Skirting around its base and under the imposing western Breach, descend into the sheltered Barranco Valley for mid-way camp at 3,950m. 6 to 7 hours walking and only 110m total ascent but having climbed much higher and dropped back down assists acclimatization.
Day 4
Barranco Wall - Karanga Valley - Barafu Hut
Up the steep Barranco wall with some sections of very easy scrambling and drop down again to the Karanga Valley where you take a break for lunch. After lunch hike on to Barafu Hut 4600m, having hiked a total of 7 to 8 hours and ascended 650m. You have fantastic views across to Mawenzi peak from the camp after having completed a longer day of hiking which now requires you to adequately relax in preparation of the challenging summit hike early the following morning.
Day 5
Gillman's Point - Stella Point - Mweka Campsite
A bracing 1am start to climb the steep frozen scree. This is unavoidable on any route but we aim to go past Gillman's Point to reach Stella Point on the crater rim for sunrise another 40 minutes and you are at the highest point on the continent (Kibo:5900m), usually in warm sunshine. Return on the Mweka descent route. Ascent of 1,300m and about 7 hours trek to the summit; 2,600m descent and 6 to 7 hours trek to the Mweka campsite (3400m) above Mweka gate. This is a long hard day but you feel absolutely ecstatic when you have done it!
From Mweka campsite it is a 4 to 5 hours descent through the forest to Mweka gate (depending on individual fitness) to collect certificates and meet the vehicle. Return to Arusha for the night.
Accomodations
1 STAR
Machame Route Tents or similar
Policies
CLIMATE: Mount Kilimanjaro is only three degrees south of the Equator so although the climate is technically 'equatorial', it is essentially tropical. The long dry season (Jun-Oct) is followed by ?Short Rains? (Nov-Dec). During the short dry season (Jan-Mar) it can be very hot and humid. The 'Long Rains' fall Apr-May. On the mountains, temperatures rise and fall only slightly throughout the year but vary considerably between night and day. Temperatures gradually fall as altitude increases. Above 4,000m, daytime temperature is usually around 5C dropping well below freezing at night. BAGGAGE: For your comfort we recommend you travel as light as possible; many airlines impose a maximum weight limit of 20 kg – we advise you to take a lot less! We would suggest : One main piece – soft bag rather than a hard suitcase as it can be easily stowed and carried by porters on the ascent. Pack lightly as space is restricted – max. 15kg. NB: any surplus baggage can be stored in Arusha during the ascent – it is vital not to over pack. Please take only bare essentials for the climb. A daypack – For comfort we recommend a larger daypack or small rucksack with a comfortable harness and waist belt (30-40 litres capacity is ideal for carrying warm clothing, camera, water bottle etc. CLOTHING AND FOOTWEAR: It?s essential to keep yourself (and your baggage) dry at all times. Also, to cope with variable temperatures, the best strategy is to layer clothing, so you can adjust your temperature. You should not underestimate the freezing cold conditions you will encounter on the mountain. Although some clothing and equipment is available for hire locally, it?s impossible to guarantee its quality or availability, so equip yourself fully before departure. If you require further advice please contact your mountain climb consultants at: travel@bobbytours.com The following is a suggestion of what you may find useful to take on this trip. It is not exhaustive and a more detailed packing list can also be found at Suggested Mountain Climb Equipments page. T-shirts (synthetic materials are best as cotton retains moisture) Waterproof thigh-length jacket (Goretex or similar) Gloves (waterproof warm outers + thin liners) Warm hat (or balaclava) that covers the ears Waterproof walking boots (well broken-in) Waterproof outer trousers _ Warm mid-layer (fleece or down) Warm long-sleeved shirt _ Warm walking trousers (not jeans!) Thermal underwear _ Walking socks (several pairs) Walking shorts Trainers or soft shoes for relaxing Sun-hat Gaiters EQUIPMENT: Glacier glasses (or good quality sunglasses ? preferably with side shields) Personal first aid kit & essential medication Wet wipes Warm sleeping bag (3/4-season) Sleeping bag liner Trekking pole(s) – can be hired locally Small towel Headtorch & spare batteries Spare plastic bags Waterbottle(s) – minimum 3 litres capacity High factor sunscreen & lipsalve High energy snacks, dried fruit, nuts, sweets, etc. NB: hang on to some till the last day – you?ll appreciate them more! A small bottle of cordial or squash concentrate (to liven up the ?flat? taste of boiled water) MEALS 6 breakfasts, 6 lunches and 5 evening meals are included. TIPPING: Tipping is an accepted part of life in Tanzania, and you will be expected to tip to reward service. You will be briefed on arrival as to when and how much is appropriate, however, depending on the size of your group you should budget on a personal contribution of around $ 45 to $ 50 for your trek guides, cooks and porters on the trek. CLIMATE CHART Arusha (1,390m) Jan Feb Mar Apr May Jun Jul Aug Sep Oct Nov Dec Temperature: average high/low C 28/13 28/14 27/15 25/16 23/15 22/13 22/12 23/12 25/13 27/14 27/14 27/14 Rain: average monthly mm 66 77 138 223 83 17 8 7 8 24 119 103
Reviews
No reviews